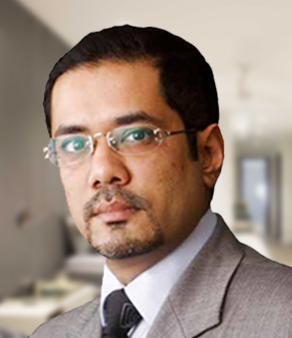 Chetan D. Narain
President & CEO - "Narains Corp"
Past President - India Institute Of Real Estate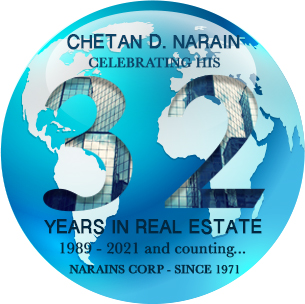 A thoroughbred professional, who is responsible for initiating and guiding the Group's foray into new realms of Realty. Having been in business since 1989, he is equipped to handle all segments of real estate whether Commercial, Retail, Residential, Investments, Joint Ventures or Large Development.
His avid quest to turn not just 'Narains Corp' but also the fraternity of the Indian Property Consultants into a globally competitive force to reckon with had rendered him the unanimous choice as President of the 'India Institute of Real Estate'. The IIRE played a pivotal role in collaborating with the State Government to train aspiring Property Consultants and REALTORS®.
Very well known among developers and clients alike in the segment he represents, he is constantly training his core team in order for him to focus on the long-term strategic aspects of the industry. He was a speaker on the National Association of Realtors USA and had been on the Executive Committee of the International Consortium of Real Estate Associations (ICREA-worldproperties.com) from 2004 - 2006. He has had the pleasure of teaching 'Methods of Valuation for Residential and Commercial properties'.
Link to Videos of him speaking at a few conferences: https://www.youtube.com/user/NarainsCorp
He has also had the pleasure of assisting Urban Land Institute (ULI) during their study tour to India (Feb - 2007) and helped organize a seminar on Infrastructure held in Mumbai. In April 2007, he was invited by ULI to Shanghai for their 'World Cities Forum' and had the opportunity to address the members and visitors on opportunities and current scenario in India on Real estate development and Infrastructure front.
He also wrote a fortnightly column (from 2005 to 2009) for '˜Times Property' a real Estate supplement of Times of India and wrote for the Economic times, and leading business magazines and other dailies. He is proud of his team and himself for providing property rates for residential properties in Mumbai to 'The Times of India.'
From 2010 till date besides continuing being a leading property consultant in the Luxury Segment in Mumbai, he has been a consultant to various International banks, pension funds, Real Estate fund houses seeking Real Estate investment opportunities in India.
On the lighter and personal side of him, he has authored a book based on his hobby of understanding Personality Traits and Human Behavior linked to their Sun Sign, minus the Astrology Jargon. The book titled "What's your sun sign" has had over a 100 Million views, over 1,00,000 Likes/Fans on Facebook Page: https://www.facebook.com/Whats.Your.Sun.Sign.BOOK
And over 4,00,000 views on The Audio Book on youtube: http://www.youtube.com/AudioSunSigns
His Favourite quote is: "Which city is the best city in the world? Simplicity!"
---