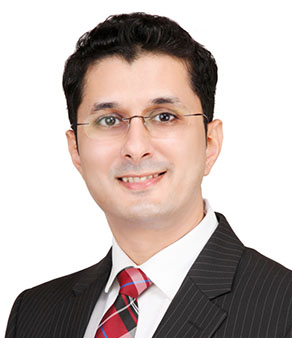 Sanjeet D. Narain
Managing Director - "Narains Corp"
SIOR, MRICS, TRC, CRES
A seasoned professional and real estate enthusiast, responsible for steering "NARAINS CORP" to a significant position in Commercial and Industrial Properties since 1994, within India and globally. With an eye for detail and exceptional interpersonal skills, he proposes landmark solutions that serve the diverse needs of clients – whether for Office or Industrial Space, Investments or Land Acquisition and others.
Sanjeet has guided global clients through complex real estate tangles with ease and finesse. He has been invited to various Global and Indian real estate conferences and forums as a distinguished speaker and has written for various Global and Indian magazines and media houses. He has shared his vast knowledge and unique experience amongst clients and colleagues during his visits to New York, Chicago, Washington DC, Dallas, Miami, Los Angeles, San Francisco, Las Vegas, Boston, Seattle, Philadelphia, Atlanta, Pittsburgh, Minneapolis, Charlotte, Nashville, Austin, Denver, San Antonio, Huston, St. Louis, San Diego, Scottsdale, New Orleans, Portland, Anaheim, Irvine, San Jose, Orlando, Vancouver, Calgary, Toronto, London, Paris, Amsterdam, Warsaw, Dubai, Singapore, Hong Kong, Sydney, Mumbai, Bangalore, New Delhi and many more.
He holds the distinction of being the first broker in India to be accredited with the elite Society of Industrial and Office Realtors (SIOR) designation. This is a distinction less than 1% of the global commercial real estate professional hold. He also holds a Certified Real Estate Specialist (CRES), Transnational Referral Certified (TRC) designation, and is the founder member of India Institute of Real Estate (IIRE). He is also a Trustee of a private charitable trust which helps the poor and needy in India.
Designations and Positions:
SIOR – Chair, International Admissions (2020 - Present)
SIOR – Chair, International Member Group (2017 - 2019)
CoreNet Global (India) – Director (2017 - 2019)
The Real Estate Kings (TREK) – Managing Committee (2016 - Present)
RICS – MRICS
CRES – Certified Real Estate Specialist
TRC – Transnational Referral Certified (NAR)
Realtor – National Association of Realtors (NAR)
PPRE – Principles and Practices of Real Estate Management
IIRE – India Institute of Real Estate (Founder Member)
---